The Bucks Heroes Project is looking for stories – could it be yours?
Have you ever noticed that the most interesting stories we hear – or that we tell – are about people we actually know? As humans it is natural for us to seek out information about people that we can relate to. It also helps us to understand our world better. And that's why Discover Bucks Museum's upcoming exhibition, 'Bucks Heroes', is such an exciting project to be a part of, and why we want to hear your stories!
The Bucks Heroes Project
The Bucks Heroes Project, funded by The National Lottery Heritage Fund is all about highlighting people in our local Buckinghamshire communities who have done, or continue to do, extraordinary things or even keep on doing ordinary things – often in the face of adversity. At Discover Bucks Museum (formerly the Bucks County Museum) we are so excited to be giving a voice to some of the unsung heroes of our communities, whilst telling fascinating stories that the people of Buckinghamshire and other visitors will love to hear.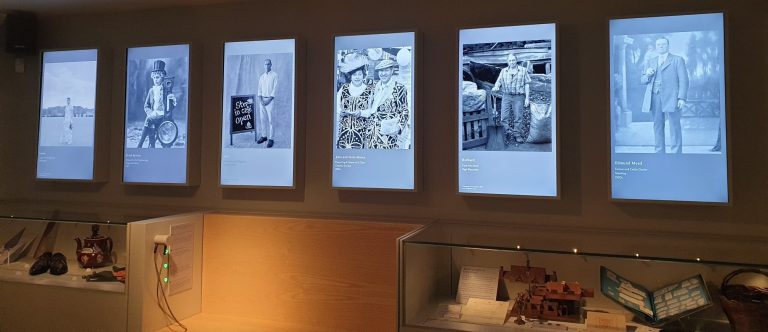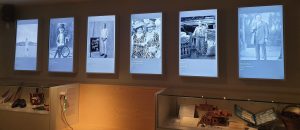 Visitors to the museum can already see the start of this project in Discover Bucks People; one of five new galleries curated to tell people more about our county. The stunning collection of artefacts tell a range of stories from Buckinghamshire residents, past and present.
Fun Facts and Artefacts from Local Heroes
The flamboyant carnival headdress (centre in the below photo) was used at the London 2012 Paralympic Games opening ceremony. The Paralympic movement began thanks to the works of Buckinghamshire resident and German immigrant, Dr Ludwig Guttman, who used sport to rehabilitate his spinal injury patients following the war.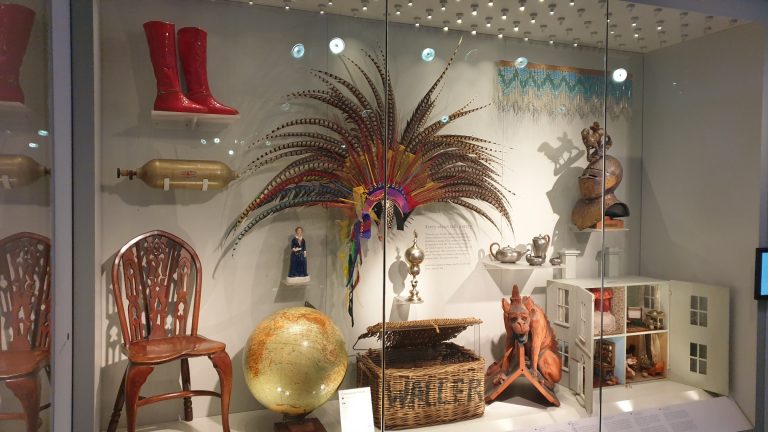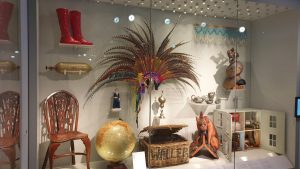 The Mary Quant 'kinky boots' (top left hand side in above photo) are an icon of 1960s fashion but also represent a point in time when local resident, Yvonne Parminter, worked as a top fashion model in London. Yvonne later moved to Princes Risborough to follow her passions of gardening and local history and generously worked as a volunteer at our Museum for many years.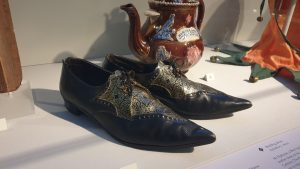 Mr Alphonse from the West Indies wore these rather fabulous shoes on his wedding day at St. Joseph's Catholic Church, Aylesbury in 1967. Saving from his modest factory earnings, these shoes symbolised his hopes for building a new and better life for himself and his family.
Your Stories Retold
But these stories are just the start of this project. We are looking for 100 stories from people in our local communities. Stories from the past and present – and from people from all walks of life. Heroes come in many different forms – from the parents who moved to Buckinghamshire to find a better life, to the teachers that have inspired a new generation, to people with disabilities who have achieved what many thought impossible. If you have done something that you're proud of, or you know someone who has done something amazing, we want to hear from you. Perhaps you were told stories from local relatives and now is the time to pass on that knowledge.
Whatever your story, we want to hear it! And we would love to see your artefacts in our collection when we launch the full project in Spring 2023. Whether you want to write your own blog, or let us interview about your experiences, we're ready to help you tell your story.
See some blogs of other Bucks Heroes here;
Karen's story, Chester's story, Stephanie's story, Agatha's story, Dave's story, Claudia and Elisha's story, Patsy's story, Gladys's story, and Stan and Isaline's story
If you have a story to tell please contact us at Bucksheroes@discoverbucksmuseum.org