Claire Willberg, Muir Trust Artist in Residence
Open Studios: 7, 8, 12, 14, 28, 29, 30 April, 5, 6, 7, 12, 13 May 2022
Exhibition: 28 May – 2 July 2022
Print maker and stop motion film maker, Claire Willberg, will be creating new works in relief print inspired by the museum and its collections. Join her on the journey from initial inspiration to finished prints.
Claire will be in residence at the museum from 7 April to 13 May 2022. During her residency she will have the opportunity to choose from the many different items on display at the museum to use as inspiration for her prints. Visitors are encouraged to visit her at the museum during her residency on the following open days 7, 8, 12, 14, 28, 29, 30 April, 5, 6, 7, 12, 13 May 2022 any time between 11:00 and 15:30 to find out more about her technique and style.
All the prints Claire creates during her residency will then create a wonderful exhibition at the museum running from 28 May – 2 July 2022.
Entry to the exhibition is included in your Museum entry charge.
Find out more about our admission charges here.
Events with Claire Willberg:
Simple relief print making workshop for adults
Saturday 14 May, 10.30am – 1pm : £15
Join our 2022 Muir Trust artist in residence; Claire Willberg to learn about the different materials and methods involved in making a relief print. Taking inspiration from the museum collection you will explore making and printing techniques to make your hand printed outcomes. Please bring along an apron and an empty cereal packet or similar bit of packaging that we will use during the workshop.
Simple stop motion animation for all ages using a smart phone
Saturday 14 May, 2pm-4.30pm : £15
Join our 2022 Muir Trust artist in residence; Claire Willberg to learn about how to make a simple stop motion animation using your own smart phone. All you need to do is download the free app Stop motion studio and you are ready to create your own moving images using the museum collection as your inspiration.
Residency talk and private view of exhibition
Thursday 26 May, 2pm : Included in Museum entry charge.
Join Claire Willberg as she talks about her 2022 Muir Trust residency here at the museum.  Claire will discuss which parts of the collection has influenced her work and the objects she chose to use and why. After the talk, visitors will be treated to an exclusive preview of her exhibition created out of her residency.  The exhibition opens to the public on 28 May.
The talk and preview are free, the charge is our standard entry charge to the Museum, called our Discover Pass. On arrival you will be given a Discover Pass which gives you 12 months entry into our Museum Galleries.
Booking for events is essential.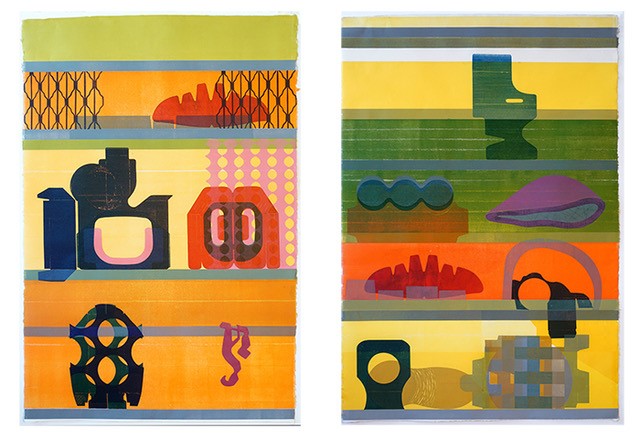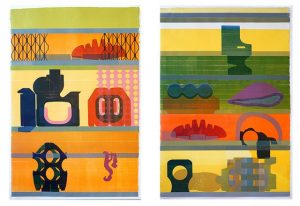 Artist statement:
'As an artist printmaker and collector over many years I create and respond to collections that inspire and influence my work. I am looking forward to spending time in a different environment and responding to museum objects. I plan to spend time creating stencils and cut outs that are then relief printed and I want to explore the juxtapositions of bringing unlikely groups of objects together. I am interested in clashing and combining artefacts from different cultures and in curating my own selections through print.
My prints are created using the relief process and are printed both by hand and on an intaglio press. The printing plates are made from a variety of repurposed and recycled materials such as cardboard packaging. Each print is a one-off and may go through the press multiple times using inks mixed with translucent mediums to create colour and texture. In recent years my work has developed to include stop motion animation using the stencils and cut outs.'
Residency supported by The Muir Trust, discover more about the Muir Trust here.


Associated Events with Claire Willberg:
More information to come…
Gallery
Image credit: © Claire Willberg
Stop Motion Animations
Stop motion films © Claire Willberg
More films can be seen on Claire's Instagram Claire Willberg Artist